Description
Centrally managed cyber-security for your office workstations, servers and remote workers
Companies have paid billions in ransom demands because their security let them down.
Don't be the next victim.
Emsisoft simplifies your security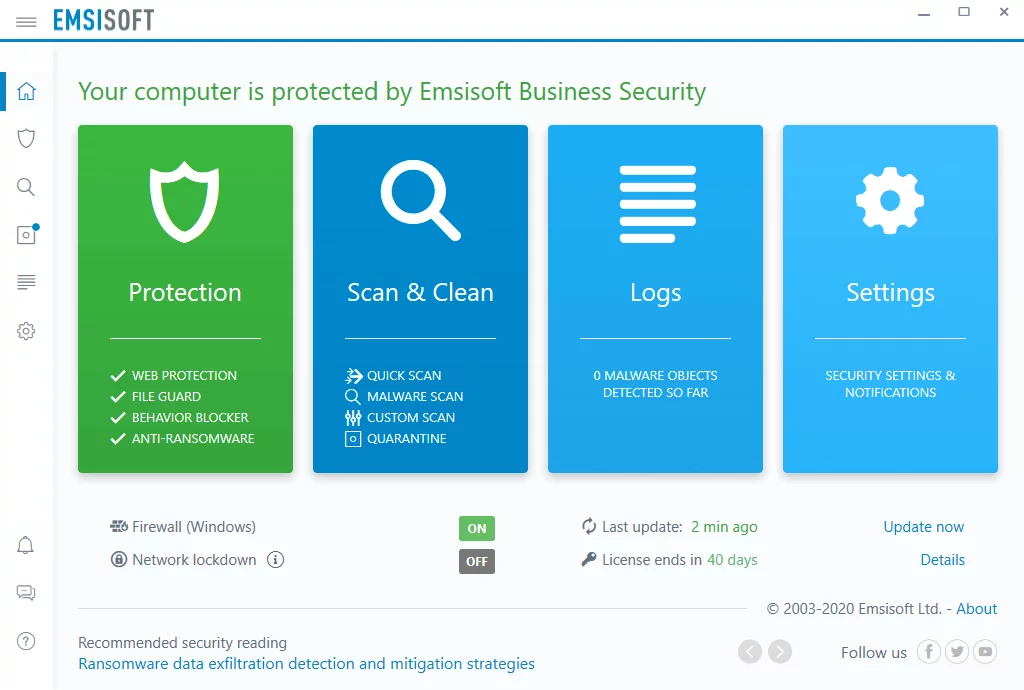 Emsisoft Business Security in a nutshell
Made to protect small and medium sized businesses.
Created by the world's best ransomware experts.
Super-fast and low on resource use.
Multi-layered protection with next-gen technology.
For workstations, servers and remote workplaces.
Built with privacy in mind.
Beautifully crafted for easy use.
Making security management simple.
Loved by customers all around the world.
Stop Ransomware. Before it encrypts your files.
Signature-based detection
Thanks to our intelligence gathering network and exclusive partnership with ID Ransomware, we discover new and emerging threats fast. Because of this, we're often first-to-market with protection against new and emerging threats ensuring your endpoints are protected in the shortest possible time.
Exploit detection
Interrupts the attack chains used by ransomware. Exploit detection and attack surface reduction in common applications such as Microsoft Office ensure that ransomware is blocked, whether the vector is email, insecure RDP or unpatched vulnerabilities.
Behavior-based detection
Emsisoft Business Security constantly monitors for ransomware-like actions such as the manipulation of important processes and raises an alert if suspicious behavior is detected.
Ransomware-specific behavior
Automatically detects and blocks known ransomware behavior such as encrypting a large number of files, dropping a ransom note-like document or attempting to encrypt or delete backups.
Manage your business easily with Emsisoft Management Console